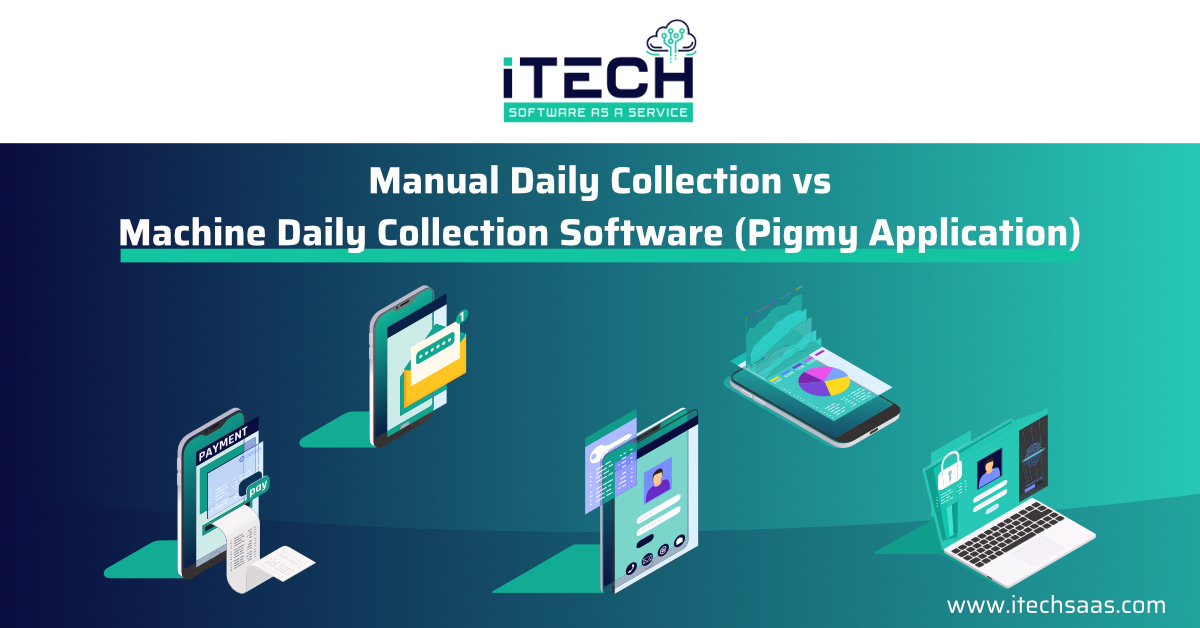 Collections plays a critical a role in your finance business. Limited resources, personnel, and time are common denominators for many collections departments. We typically see operations afflicted with the same challenges and obstacles. As the economy and consumer sentiment continue to improve, finance business can expect to see lending increase.
Let us today understand the differences between Manual Daily Collection & Machine Daily Collection Software (Pigmy Application)
A. Manual Daily Collection.
1. Lack of Automation
A common challenge we see in financial institutes is an increase in the workload of their collectors due to lack of technology and automation. Collectors are faced with multiple manual processes that not only make their collection process inefficient, but increase the opportunity for human error.
2. Disjointed Communication
When collectors are operating within an environment of manual process, they naturally experience difficulty communicating with their superiors, counterparts, and customers. Communication can occur via email, phone, or in-person, and without a unified system, it can be difficult to track workflows and get accurate status updates to collection activity.
3. Dependency on Multiple Programs
Another challenge we often see within the financial institutes that they typically need to use multiple systems to generate and notate collections activity, process payments, add notes, etc. Naturally, this causes inefficiencies, reducing the number of calls a collector can take per day. Since businesses are losing 20–30% in revenue each year due to inefficiencies, finding ways to combine tasks and services to improve efficiencies and create a more productive workforce is more important than ever for financial institutions.
4. Dependency on IT
It's not uncommon for financial institutes - or any organization for that matter - to experience a strain on their IT resources. Collection operations are no different. And the more systems and platforms that are used to perform day-to-day tasks, the more likely it is that updates will be needed and issues will occur that will require IT involvement. Heavy dependency on IT department to execute pertinent changes within the collections application in a timely manner is a major challenge we see in many collection operations.
B. Machine Daily Collection Software (Pigmy Application)
ItechSaas Daily Collection Application has solved many of the daily collection agents problem by developing a mobile data collection management system.
Daily Collection Application is the outcome of a blend of innovative ideas and experiences of both accomplished software engineers and sincere hardworking users.
Itechsaas has introduced a mobile data collection management system for managing the data of daily collection receipts. It is user friendly application which is easy to use & saves time involved in the process of collecting the cash & giving out the manual receipts.
Implement the ItechSaas Daily Collection Application for your business today & benefit your daily collection business by below listed points,
Use one mobile phone for making calls & daily collection.
Fingerprint login is enabled for more security.
Manage all your customers in a very easy manner.
Entry of receipt in the application immediately gets recorded in the server.
By using additional SMS receipt software package, the customer can have electronic receipt of the payment in the form of an SMS on his registered mobile number immediately.
One of the top benifits is Thermal Printer Integration. Connect your application with printer & generate receipt in no time.
One mobile can be used for accepting daily collection payments & other kind of deposits as well. (Other deposits like saving deposits & microfinance etc.)
Mobile phone is much easier to handle & operate as compare to daily collection machine.
Daily collection payments get recorded in the server in real time so fraud cases can be avoided at much extent.
There is no need to worry about losing recorded data of daily collection payments in case of losing mobile phone as the data is been recorded in the server in real time at the time of saving the entry by the agent.
Easy for Financial organization to launch and rollout the system.
Fully online; Transactions processed immediately in real-time
Rules out manual errors.
Quality Customer Support.
Portable devices ideal for Doorstep Financial Inclusion.