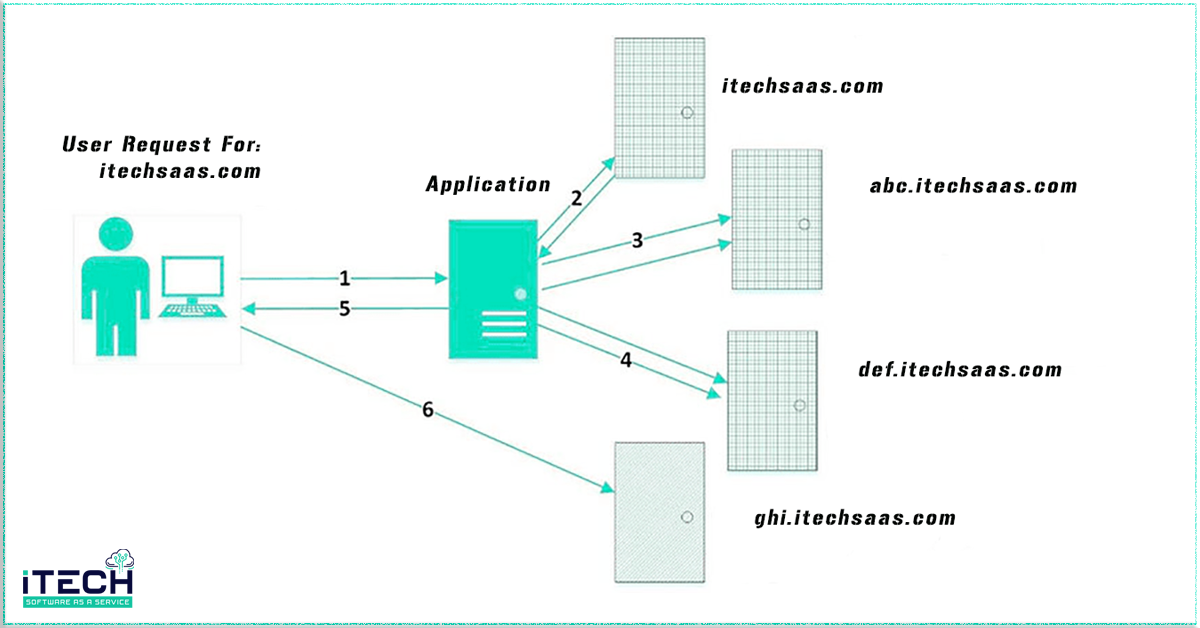 Let's say you've decided to create a website; before even starting to build it, you'll probably find yourself brainstorming what it should be called. So one of the first things that you do is look for and purchase a domain name. Some folks believe that you gotta "lock in" that domain name before you even write one line of code. Fair enough, we can understand and somewhat agree with that. After some research, you decide to purchase itechsaas.com
After several months, you start getting new ideas. These new ideas are still related to itechsaas.com, but they are disconnected from the main intention of your original website. As a result, you decide to create subdomains, where each subdomain is a different web app or experience that are still under the same umbrella of your domain name. So you decide to go with blog.itechsaas.com, features.itechsaas.com, contact.itechsaas.com
Multiple apps are expensive. Hence, Using our ItechSaas - Content Management System (CMS) to power your site & also to run multiple subdomains under single application could be one of the best investments you make in your digital presence – and your business.
And you do need to invest - your website is one of your main tools for communicating with your customers and you want to make sure they love it. But that doesn't mean you want to get bogged down in technical details.
Our CMS marries power with simplicity so you still have time to concentrate on improving your business.
Here are seven key benefits of using our ItechSaas CMS to run your business website/application.
1. It's easy for the non-technically minded.
Not all users have the same comfort level with technology, but the basic ItechSaas CMS functions of writing and publishing content, and slightly more advanced ones of adding media are usually easy for everyone to grasp.
In fact, anyone who can use word-processing software can use our ItechSaas CMS for the basic functions – so you don't even have to spend much time on training.
2. It allows multiple users.
In a business, there are many people who can have input into your website, from those who add product pages to those who produce blog posts for your content marketing efforts.
Our ItechSaas CMS makes it very easy to manage roles and publishing permissions for all these users so that only those you allow can publish content and content only goes live when you're ready.
3. It streamlines scheduling.
Related to that, Our ItechSaas CMS will give you a glance view of the status of all content, whether it's live, being reviewed or a draft. That doesn't just apply to blog posts but to product pages and other website pages. It allows you to assign tasks and check that they have been done.
And it's easy to integrate planned content with your marketing plan so that everyone knows what's happening when.
4. Design changes are simple
Another advantage is the ability to make a change in your administrative dashboard and have it automatically propagate to the entire site. We have multiple templates that gives your site a consistent appearance and is great for branding.
It also makes it easy to update the mobile interface for your site.
5. It helps you manage content.
This may seem obvious, but for some businesses, content management is not just about publishing content but about being able to remove it when it's out of date.
If you are running a Thanksgiving or Christmas promotion, then even before the season ends, you will want to remove and change it.
With Our ItechSaas CMS, this is as simple as unpublishing the content – all menus and links update automatically, so that your customers continue to have a good experience of the site.
And if you want to include customized content such as countdown calendars and lists, our ItechSaas CMS can be configured to allow this.
And our Itechsaas CMS includes SEO too, making sure your content ranks well in the search engines.
6. You're in control.
All of this adds up to the biggest advantage of our ItechSaas CMS.
Instead of being reliant on an external vendor, with our ItechSaas CMS you are in control, with the ability to assign tasks and roles and to check progress at any time.
That puts you in the driving seat when it comes to this important business tool.
Need more info? You can send us an email to info@itechsaas.com